November 12th, 2008
Have you been thinking about seeing our team in Milan - 1st-4th December 2008?
Adobe MAX Milan is a great opportunity to meet Adobe experts, regular speakers, well known evangelists and executives. See what's really going on. Get in touch with latest technologies and get lot of valuable contacts, which helps you run your business more dynamic or just get inspired!
If you register until 14th November - you can save upto €240 on your ticket, when you use this registration code EEB856 as a regular reader of my blog.
I have two sessions there:
1) Breath AIR Into Your Brand
Adobe AIR allows companies to extend their branding to the desktop, where they can have a persistent connection to their users. This session will explain how to take your branding to a new level with AIR. We'll cover new capabilities in Flash Player 10 (now in public beta on Adobe Labs) as well as support in Adobe AIR for custom windows, icons, notifications, install badges, and more.
2) Designing and Building Web Experiences in Flash CS4
This session will discuss in depth some of the expressive design and animation features of Flash CS4 Professional that give designers and developers amazing new capabilities to create compelling web experiences. Learn how to integrate 3D and video authoring into Flash CS4 Professional workflows and how to combine your content with other tools in Creative Suite 4.
"Thermo" in action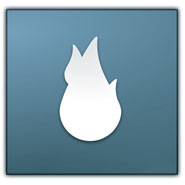 Guys from our team are going to show up Thermo and they will speak about trends of using it with Flex and other CS4 stuff - the integration is much much deeper and this is going to be the right productivity software for designers and graphics.
Make sure you don't miss Ryan Stewart's session - Introduction to Thermo and the Next Generation of Flex
You will be also able to try Mac version of Thermo on a workshop and discuss it with us. Getting really fast in it and understand the concept.
Meet us on place or at parties, there will be 4 days of concentrated knowledge, which we want to give you!
[LEGAL FOOTER]
* Offer good for new Adobe MAX 2008 registrations only. Offer good for Adobe MAX Europe full event pass registration only. The offer applies to an Adobe MAX full event pass only (EUR€840). Offer cannot be combined with any other offer, package or registration code. Offer expires 11:59 pm PDT November 14, 2008. Terms and conditions for Adobe MAX registrations will also apply. Void where prohibited.
*****
PS: If you miss the date just by few days - e-mail me, I see what I can do for getting you there cheaper.
1 Comment »
I'll be there!

Comment by Robin Raszka — November 15, 2008 @ 7:19 pm
RSS feed for comments on this post. / TrackBack URL
Leave a comment