November 2nd, 2012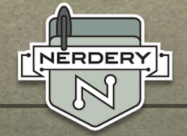 After a packed game jam in Adobe San Francisco office we are moving forward to Chicago.
This time we are going to jam at Nerdery.
Register here and have some fun with us.
Watch the video we shot last time.
More general info about Adobe Game Jam.
November 1st, 2012
Zynga's CityVille got a new 3D face and launched today in a follow up version! The game is built with the next generation of Flare3D engine, which is powered by Stage3D/Flash technology.
You can play the game here http://apps.facebook.com/cityville-two/
I gotta run now, because my house is on fire!