March 7th, 2012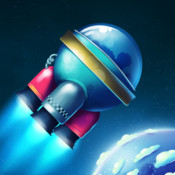 Spaced Away is the first Stage3D 2D game on the Apple App Store. I did an interview with Jakub Svoboda (Director of Falanxia - the company behind the game) here at Game Developers Conference 2012 in San Francisco.
Download Spaced Away Slim
Download Spaced Away HD
Me:
Hi Jakub, that's pretty impressive to see the first Stage3D game in Flash hitting the App Store, how do you feel about that?
Jakub: Actually, it feels pretty great to be the very first game made in Stage 3D mobile. From the beginning we wanted to have Spaced Away on as many devices as possible and as visually appealing as possible (and we actually have already won The FWA Mobile Of The Day Award). Stage3D made this possible, so from now on almost every iOS owner can play the game. Together with that, thanks to Adobe AIR native extensions, we were able to implement also native features like iOS Game Center (ANE by Milkman Games).
Me: How many people were involved with the game?
Jakub: We are really small team: two designers, two developers, two game designers and we work with contractors as well. At some point, all of us were of course involved in the game, but mainly there were 3 to 4 people around the game.
Me: The game was originally written with display list rendering, how long did it take to port it to Stage3D?
Jakub: We worked on the game for few months, but the Stage3D port took us only about 2 to 3 weeks. We had to play a lot with performance issues on different iOS devices, but otherwise it was really smooth process thanks to Starling Framework.
Me: How many levels are in the game and how did you design them?
Jakub: There are 40 levels in the game and more to come in the next months. We are also iterating versions of tutorial and some UX stuff around, so more updates are to come regularly. About designing the levels: we created our own visual editor, where game designers could play with all the objects and see the results right at the time.
Me: Where are you based?
Jakub: We are czech studio based in Prague. You probably have already heard about game design studios from the country: Amanita Design, Madfingers, Craneballs and of course hardcore game makers like 2K, or Bohemia Interactive. So we hope, we will be as famous as them one day as well

Me: Are there any other platforms coming?
Jakub: We are in fact planning to release the game on Android as well, which should not be a problem at all at this stage for us.
Tweet
3 Comments »
name of the studio is "falanxia" missed the 'n'.

Comment by vitaLee — March 7, 2012 @ 11:10 am

Good to see a fine demo of starling framework. Wish you best of luck on your upcoming games.

Comment by Usama Ahmed — March 7, 2012 @ 11:37 am

I might add Internet play next and I'm checking out the options for a server.

Comment by Louis Vuitton Handbags Outlet — August 14, 2012 @ 11:10 am
RSS feed for comments on this post. / TrackBack URL
Leave a comment