September 8th, 2011
Machinarium, an award-winning indie point-and-click adventure/puzzle game in Adobe Flash and AIR.
A few months ago I met the guys from Amanita Design in Brno, Czech Republic. We talked about the success of Machinarium for desktop (available for Windows, Mac and Linux). That was just around the time the Adobe AIR 2.7 for iOS, Android and PlayBook was made available - and after some time the guys decided to port the game for tablets.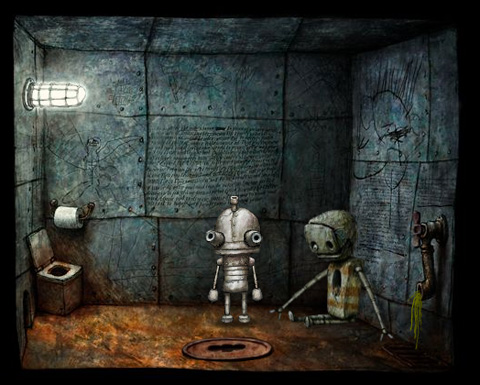 And today September 8th 2011, the game is available on the iOS App Store!
*Note: I will be releasing an article about the making/porting of Machinarium for tablets soon covering all the technical details.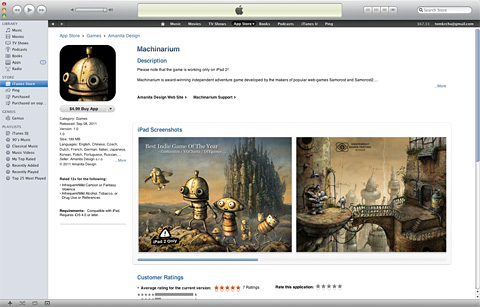 Watch the trailer:
Interview with Jakub Dvorský (game designer and director):

Me: You have just released the new iPad version of Machinarium, but tell me something more about the history of Amanita Design and how you started building puzzle/adventure games?

Jakub: Amanita Design started in 2003 when I released a free web-game Samorost which was my thesis project at the Academy of Art. Even before that, I had created a couple of adventure games while studying at grammar school. Since then I have found several excellent collaborators so now the studio is nine men strong. We are still completely independent and self funded, and we still make adventure games. Of course we are also trying to push that genre somewhere to make our games more funny, entertaining and challenging at the same time.

Me: Where does the original idea for Machinarium come from?

Jakub: First we knew, we wanted to create a full-length adventure game and that it should be a bit different and more complex than our previous Flash games. Then we came out with an idea of a robot as the main hero who lives in a robotic world. My first idea and vision of a strange vertical city populated by robots came to me about ten years ago when I was on an exchange scholarship in Netherlands. I was influenced by the modern functional architecture and the flatness of the country.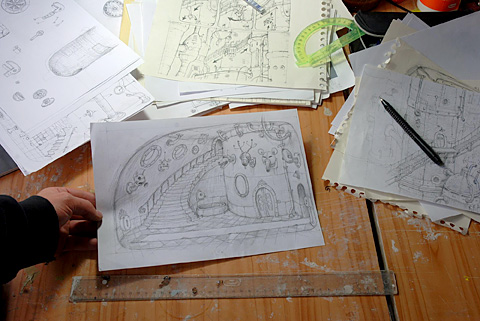 [Machinarium - sketches]
Me: How long did it take from the first sketches to the release?
Jakub: It took us almost three years. It's a very long time and it wasn't easy to stay focused on only one project all the time. Of course the whole game also changed significantly over that time. The basic concept was much simpler and our idea was to create longer but quite simple looking game. We thought it will take us about one year to finish it. In the end I'm really glad we spent all that time on it, because the game is now much better and more polished than what was intended in the initial plan and it definitely paid off.

[The artist's studio - Adolf Lachman]
Me: Why have you chosen Flash/AIR for the game?
Jakub: We have a long time relationship and lots of experience with Flash (since the Macromedia days). We don't know any other tool for making such rich and interactive animations like Flash. And AIR was for us the only way how to get the game on iPad and other tablets in a relatively short time. Also we are looking forward to trying upcoming features of AIR 3.0 including Stage3D.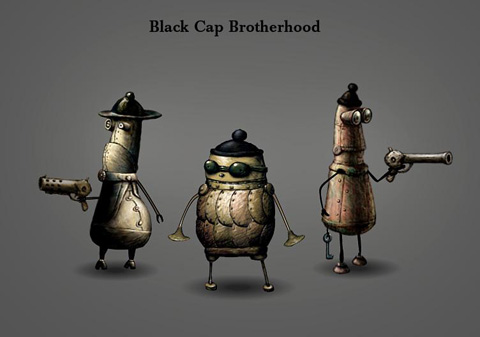 [Black Cap Brotherhood from Machinarium]
Me: What about the music and sound effects?
Jakub: The music and sound effects are very important in all of our projects so we do care about the whole audio side a lot. Our 'in-house' composer Tomas 'Floex' Dvorak (who created also Samorost2 OST) has worked almost one year on the score. The style could be generally described as electroacoustic music with elements of ambient, soundtrack and classical music. Tomas is very interested in the fusion of the acoustic and electronic fields, and it is also noticeable on this work. The same goes for sound effects which were all recorded and edited in our studio.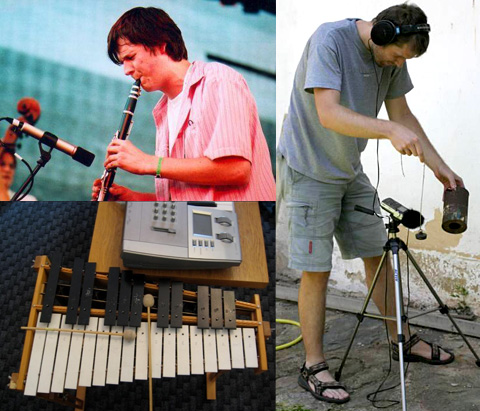 [Music by Tomas 'Floex' Dvorak, Sound design by Tomas 'Pif' Dvorak]
Me: Where can people get Machinarium?
Jakub: Machinarium is available for PC, Mac and Linux on our own website (machinarium.net) and it's also on Steam and Mac App Store. The iPad2 version is available on iOS App Store and the Android version for tablets is coming soon as well. In addition to that we are also working hard on PS3 version which should be available later on PSN.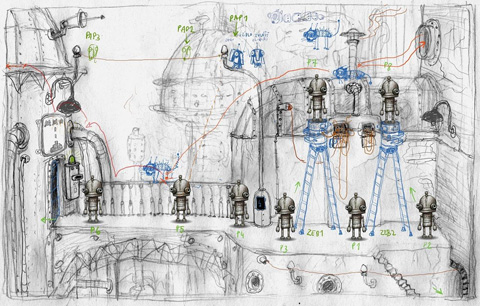 [Level design]
Me: Are you planning any other games at the moment?
Jakub: Yes, right now we are working on two projects - the first is a light-hearted and funny adventure game called Botanicula. It's about five friends - little tree creatures who set out for a journey to save the last seed from their home tree which is infested by evil parasites. The game itself is about exploration, solving little puzzles, meeting strange tree creatures and listening to the music. The other game is Samorost3 which is our main project. It will be our second full-length game and it will feature full HD graphics and a bit of a new approach to game design.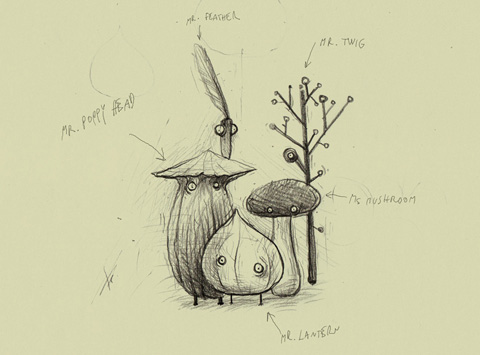 [Sketch of the five friends from Botanicula]
Tweet
6 Comments »
RSS feed for comments on this post. / TrackBack URL
Leave a comment