November 24th, 2010

Update 3/18/2011: Source-code is available here: https://github.com/tomkrcha/RealtimeGameLib
Update 11/28/2010: Library now accepts variable group name, so you can create more instances. Download updated library below. Example: var game:P2PGame = new P2PGame(serverAddress,groupName);
Lot of you guys are asking for libs I've used in my Adobe MAX 2010 session Building P2P Multiplayer Games.
It's still work in progress, but you can basically grab SWC libraries here with example.
I don't want to publish source now as it needs several changes, refactor, comments, etc. But source-code should be available soon

This library has been used for MAX Racer without no change. So it's kickass tested stuff! But not completely finished and documented yet. So this is the disclaimer, I do not provide any guarantees.
If you want to start playing with it, go ahead. Comments are highly welcome!
This engines creates a full mesh network via DIRECT_CONNECTIONS NetStreams among all connected users. Thanks to that, you get lowest latency possible and it's highly suitable for realtime gaming.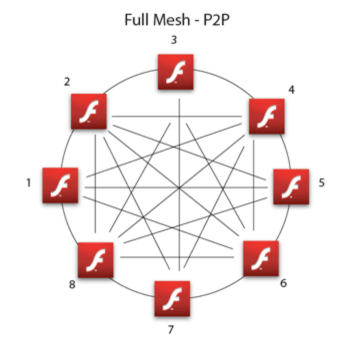 Read the rest of this entry »
December 3rd, 2008
Flash Catalyst sice ještě není ke stažení, ale účastníci konference MAX v Miláně měli možnost si ho vzít na CD od jedné z hezkých italských hostesek hned po skončení General Keynote Session Day 2, kde v jej kostce předvedli a pak na dalších sessions a labs podrobně rozebrali.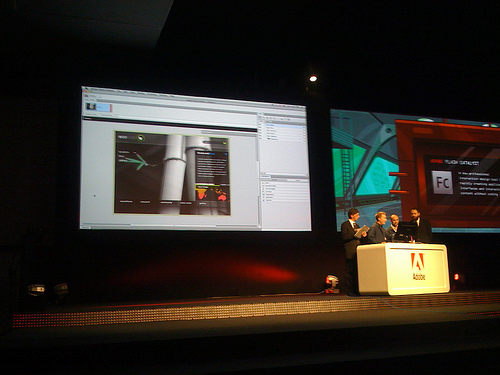 [Uvedení Flash Catalyst v Miláně]
Flash Catalyst je produkt, který slouží pro přípravu layoutu (view) ze strany grafika pro prográmatora. Żamezí se tak tomu, že grafik měl trochu jinší představu než jak to ve výsledku udělal programátor.
Úvodní stránka vám umožňuje vytvořit nový prázdný projekt, do kterého si grafiku postupně nasazíte sami, nebo import z Creative Suite produktů - Photoshopu, Illustrator, Fireworks či výměnného layout formátu FXG.
Jakýkoliv prvek (vrstvu či objekt z illustratoru) jednoduše převedete na interaktivní prvek typu tlačítko, scrollbar, textové pole apod. Všechny vrstvy můžete procházet v panelu vrstev. Převod je tak pro grafika zvyklého např. na Photoshop velmi plynulý, nemusí si vícemeně zvykat na nic nového. Flash Catalyst používá časovou osu (timeline) a stavy (states). Pro přechod mezi stavy můžete použít předpřipravené efekty, či změnit parametry prvku a docílit např. 3D animace.
Ve chvíli, kdy převedete prvek na komponentu např. tlačítko, můžete se přepínat mezi stavy (Up, Over, Down, Disabled) a každý stav přizpůsobit vašemu gustu. Vedle toho lze nastavit i další parametry komponenty.
Vedle toho je k dispozici i výsledné MXML (XML kód layoutu), které Flash Catalyst vygeneruje, grafik se tak postupem času může naučit upravovat i tento jednoduchý zápis a zpřesnit tak své nároky. Jinými slovy má plnou kontrolu nad prototypem, který posléze předá programátorovi a ten jej propojí s datovou vrstvou a přidá další fičury.
Tento kód se dále předá do Flex Builderu 4 s názvem Gumbo. Adobe klade v poslední době velký důraz na úzkou integraci mezi produkty a co nejjednoduší propojení.