August 18th, 2010
I can't even say how much I was looking forward to this blog post. It's here! This feature of Flash Player and special screensharing add-in, which you might know from Adobe Connect Pro or Adobe ConnectNow is now available for every single Flash Platform developer through LiveCycle Collaboration Service. This is THE KILLER FEATURE everyone, who is developing collaborative apps, was waiting for.
And I am happy to say: The waiting is over! You can now grab it and implement it right inside of your applications!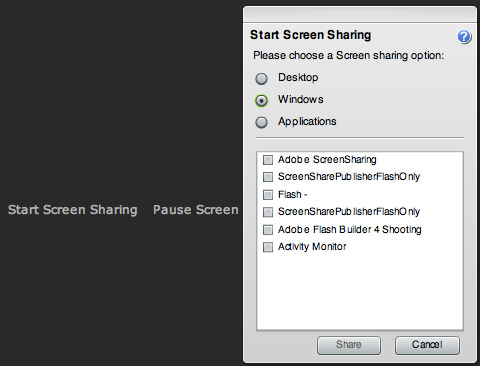 Try demo
Publisher | Subscriber
Source code is available in samples folder, which comes with LCCS SDK Navigator.

How screensharing works?
The best way to try this is definitely one of the Acrobat.com services - ConnectNow, which is completely built with LiveCycle Collaboration Service components.
What do I need for this?
If you start sharing your screen, the Flash Player asks you to install ConnectNow Add-In. The installation process is very seemless, you just wait couple seconds until the progress bar directly in Flash Player installs this essential component and then you are ready to go.
I want to start developing my own Screen Sharing apps…
For this - you need to get an LCCS account. LCCS is a cloud hosted service by Adobe - just go to LCCS Developer Portal, create account, download SDK and start building your apps.
Once you install LCCS SDK Navigator (an AIR app), you can see some tutorials, which are part of it, deploy SDK or do other related stuff. I have also done a couple LCCS video tutorials in the past, you can see them here.
In LCCS API, you will find the new four classes:
- ScreenShareCanvas
- ScreenSharePublisher
- ScreenShareSubscriber
- ScreenShareSubscriberComplex
Read about Screen Sharing at LCCS learning resource
There are more things in the latest update - like recording. Please refer to article at official Adobe Collaborative Methods Blog:
Screen Sharing and Recording: August Feature TSUNAMI
Development tip: it might happen that you don't connect correctly and it will not work. Use http instead of https in your connection string and it will be fixed.
Tweet
No Comments »
RSS feed for comments on this post. / TrackBack URL
Leave a comment