August 18th, 2010
I can't even say how much I was looking forward to this blog post. It's here! This feature of Flash Player and special screensharing add-in, which you might know from Adobe Connect Pro or Adobe ConnectNow is now available for every single Flash Platform developer through LiveCycle Collaboration Service. This is THE KILLER FEATURE everyone, who is developing collaborative apps, was waiting for.
And I am happy to say: The waiting is over! You can now grab it and implement it right inside of your applications!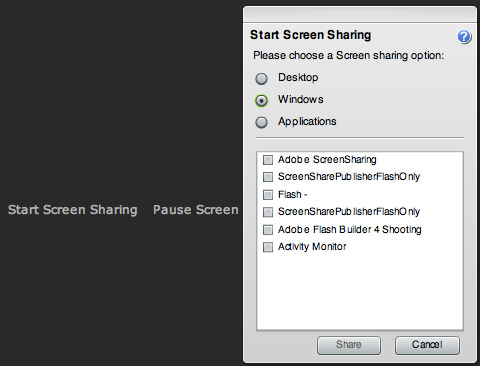 Try demo
Publisher | Subscriber
Source code is available in samples folder, which comes with LCCS SDK Navigator.
Read the rest of this entry »
June 15th, 2010
Last week, my colleagues at Adobe and I organized an online event called Build An App In A Week.

The event was packed with resources for both RIA designers and developers and the goal was to build a complete full-featured app with various functionalities and challenges in just a week.
You can watch all the recordings here.
I was doing two of them - basically about developing multiuser apps, but the main goal was a chat feature inside the app.
One used pure P2P and Cirrus, the other one used LiveCycle Collaboration Service. It's not just a simple chat application; I also explain how you can build an Instant Messenger, User Lists, Private Messaging, and so on.