September 6th, 2010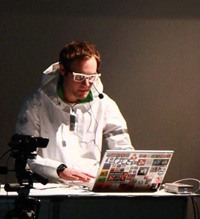 Autumn is nearly here and I have little heads-up for those of you who would like to meet me or come to my sessions during September and October 2010.
Next to that, if you would like to see me speaking somewhere else, just drop me an e-mail to tomkr (at) adobe (dot) kom and we will see what we can do for that and hopefully it will be possible.
Okay, so where you can see me for sure:
IBC.org 2010 - Amsterdam
September 9-14 2010
International Broadcasting Convention - one of the biggest conferences and trade fairs in the world about broadcasting, TV, satellites, cable, digital imaging, audio/video technology and so on.
I will be available at the Adobe Booth out there and also doing theatre sessions about Advanced P2P techniques in Flash. If you are coming, make sure you stop by for a little chat.
For Digital - Prague
September 23 2010
I am going to talk about Augmented Reality.
WebExpo.net 2010 - Prague
September 24-25 2010
Get inspired with the future stuff. Session: Flash and HTML5 - my colleague Petr Pechacek is going to join me for this session.
CS5 Production Premium Launch - Prague, Bratislava
October 19-20 2010
Jason Levine, the Adobe evangelist rockstar is coming to Prague and Bratislava. Registration to be available soon. I will be joining Jason on the stage.
Adobe MAX 2010 - Los Angeles
October 23-27 2010
This is the place to be. The most exciting conference to attend, again in Los Angeles, California.
This year I have a session about Building P2P Multiplayer Games on Tuesday, October, 26th, 3:00 pm - 4:00 pm. Make sure you stop by.
Link to my session